HOME 2012-CAR-SHOW SPONSORS VENDERS CLUBS REGISTRATION ABOUT-US HISTORY GALLERY LINKS 2013-CAR_and_AIR-SHOW
2013-CAR and AIR SHOW
This page last updated on 04/12/2012
We are sorry to inform you that there will not be a Southernmost Car Show for 2013!
Please see the HOME page for details.
The Air Show is on schedule, plan to attend, it will be a great event!

Naval Air Station Key West - Southernmost Air Spectacular 2013

Save the Date!

March 22-23-24, 2013
NAS Key West
Boca Chica Air Field


In 2013, we are planning to hold the Southernmost Car Show in conjunction with the 2013 Air Show at the base.
We will start getting approvals and planning this one, just as soon as we complete the one for 2012!

The U.S. Navy flight demonstration team Blue Angels and other military and civilian aerial performances will fill the skies of the Florida Keys on Saturday and Sunday, March 23 and 24, 2013, at a Naval Air Station Key West air show. Admission will be free. NAS Key West is located at MM 8 on U.S. 1. In addition to the Blue Angels, the air station intends to invite aerial demonstrations by military and civilian performers, and static military and vintage aircraft. A final schedule of events will be announced at a later date. An air show Facebook page, Twitter account and website will be established for the event. For information on sponsorship opportunities, call Jolene Scholl at (305) 293-2503. For more information, contact the NAS Key West Public Affairs Office at (305) 293-2027.





Here is some information from the last Air Show in 2010.
Click on the logo to skip to the 2013 Show website.
Naval Air Station Key West - Southernmost Air Spectacular 2013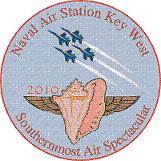 Naval Air Station Key West and the Blue Angels will ROCK your weekend! On November 8, 1986, the Blue Angels completed their 40th anniversary year during ceremonies unveiling their present aircraft, the new sleek F/A-18 Hornet, the first dual-role fighter/attack aircraft now serving on the nation's front lines of defense. In 1992 more than one million people viewed Blue Angel's performances during a 30-day European deployment to Sweden, Finland, Russia, Romania, Bulgaria, Italy, the United Kingdom and Spain. This was the first European deployment in 19 years. The 2007 show season brought out more than 15 million spectators. Since 1946, the Blue Angels have performed for more than 427 million fans.

| | | | |
| --- | --- | --- | --- |
| | Here is a great YouTube video from the 2010 Show | Here is a great YouTube video of the Blue Angels | |
| | | | |
HOME
2012-CAR-SHOW
SPONSORS
VENDERS
CLUBS
REGISTRATION
ABOUT-US
HISTORY
GALLERY
LINKS
2013-CAR_and_AIR-SHOW

Terms of Use Disclaimer Privacy Policy Contact Us
Copyright © 2011 - 2012 Southernmost Car Show All Rights Reserved